"The holidays may have passed but winter's just getting started. Celebrate frosty temps with this easy-to-craft snowy wreath. Your front door will thank you. Nothing brightens up your front door quite like a wreath, right? Well, mine was looking a little forlorn after I'd taken down the holiday decorations, so I decided to upcycle an old, dusty floral wreath into this snowy winter wreath."
Here's the wreath I started with; it originally hung in my childhood bedroom. My sister, mom and I made it forever ago and were really proud of our handiwork at the time. Since then, that bedroom has become a guest room and undergone a somewhat-less-girly makeover so I ended up with the old floral wreath.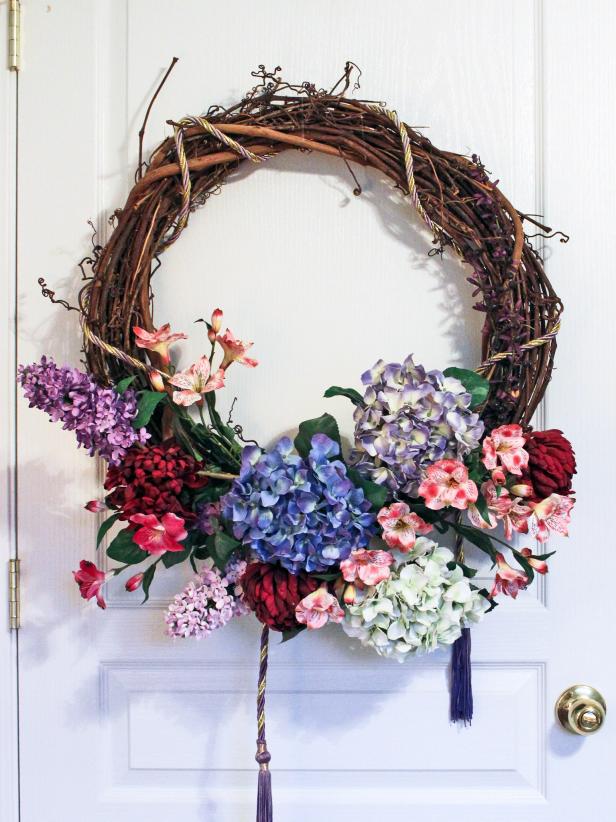 Although dusty, the grapevine wreath itself and silk flowers were still in great shape — they just needed a good cleaning and their color 'winterized'. If you're starting with all-new greenery and flowers, you can skip the cleaning/painting steps. And, because my original wreath was lacking greenery, I had to purchase it. I chose boxwood because, as an evergreen, it makes sense in a winter wreath and Dusty Miller for its frosty foliage. The key to creating a faux seasonal wreath that looks not-so-faux is to use greenery and flowers that are in season, either in their fresh or dried state. Dried hydrangeas are perfect for a winter wreath, so I repurposed their silk counterparts from the old floral wreath.
Read more: http://www.hgtv.com/design-blog/how-to/easy-upcycle–turn-a-dated-floral-wreath-into-a-snowy-winter-wre