"Ordinary gardens today do not give enough effect or life in the surroundings. There are numerous kinds of garden and one is the tropical garden. Tropical garden idea is now popular for the past several years. Plants utilized in creating a tropical garden give many different colors that happen to be very attracting to the eyes."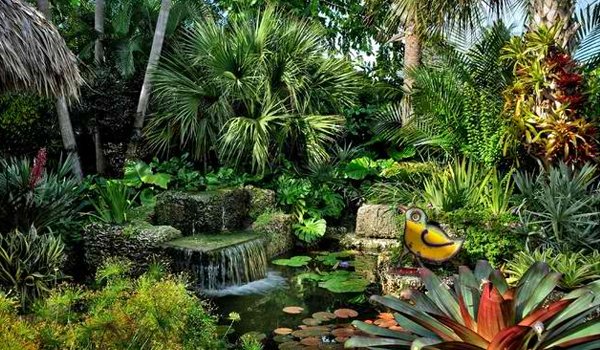 https://homedesignlover.com
Tropical garden design became one of the most popular forms of garden design in recent years. It's not only different, in addition, it makes your garden look more vibrant and colorful. Tropical gardens are among the most impressive styles any gardener could invest in. The rainforests and tropics mark probably the most remarkable collections of dense vegetation on the planet, and being able to reproduce the sensation and aesthetics of one at home is unquestionably a substantial task. The plants selected for this garden type all have distinctive looks and color, the two most key elements for this garden design.
The tropical-filled garden not just attracts people but it also attracts birds, like humming bird, butterflies and bees. You should use assorted plants for making tropical garden. A number of the plants in the garden need lots of water and some need lots of heat. There's also a few problems for making tropical gardens. One of it is the kind of nature. There are a few plants that do not fit and some can't survive in the kind of nature that you have. There are some places that have cold winter season by which a few plants can't live. Some tropical gardeners makes way in order for the plants live in cold weather, they place their tropical within the container in order to survive during cold winter season.
Below are great tips in utilizing plants which you can use creating your garden:
* The plants are of various kinds- while some may need a lot of heat, others could also need a lot of water. This is probably the most essential requirement in a tropical garden.
* Whenever you think of the tropics, you are able to instantly imagine palms and colorful flowering plants. And this is just what you need to integrate in the design to get the tropical look for your backyard.
* Additionally, you should understand the basics of the placement of plants. The big and sturdy plants shouldn't be too close to the small and fragile plant
* To include vines to your garden, you can also grow creepers on the light poles.
* You might have furniture like benches and footpaths all over the place. Ensure the furniture along with other fixture you choose to put in your backyard blends well with the over-all design. You might also include some lighting and furniture to add allure to the surrounding.
Be it in the form of pond, swamp, or cascading water system, water boosts the entire tropical theme. Water is an element known to produce soothing and peaceful ambiance, therefore never leave your landscape without one. It can be small or wide. Whatever it is, there's never a better way to let the landscape the most relaxing place. Rocks and stones strewn all over where water is put in will complete the drama and look.
These are just a number of the great tropical garden idea that you can use. Surely, you'll have a lovely and attractive tropical garden if you follow these ideas just like the garden paradise noticed in Hawaii along with other tropical places.