Posts Tagged 'decorating ideas'
It's no secret that neon is back–you can spot it from a mile away! Which is why we love it! Decoist recently featured an article about implementing neon colors tastefully, and the growing popularity of fluorescent hues has inspired another post on neon design ideas. Just as neon shades have re-entered the fashion realm by appearing as clothing pieces (like shorts) and accessories (like necklaces), they can put their stamp on our interiors as furniture pieces (like chairs) and accents (like neon floral art)!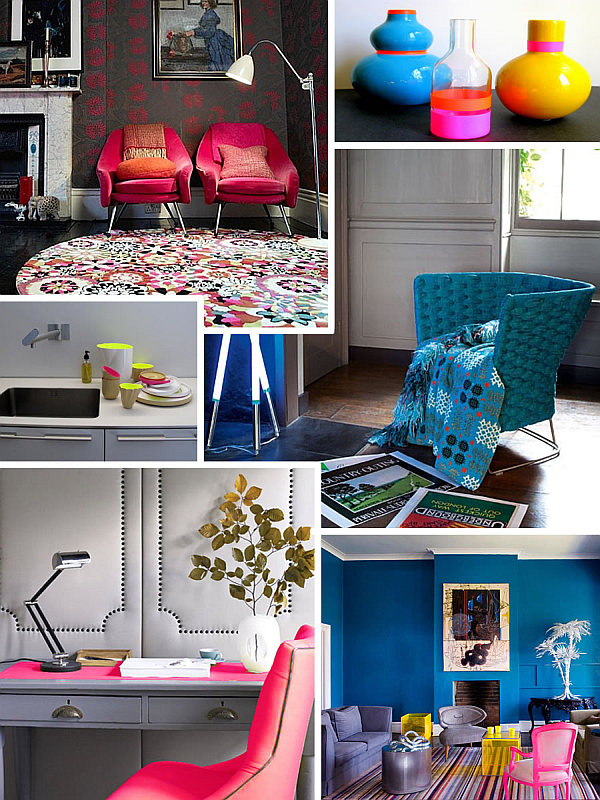 Remember that a little goes a long way. In fact, sometimes neon stands out most when it's one component of a multifaceted room. Also keep in mind that neon isn't just for modern spaces. Below we'll show you how neon can shine in the form of surprising touches that demand attention whatever their size!
Neon Furniture
Design enthusiasts are increasingly using neon furniture to make one or two bold statements that infuse a space with color. Take the sophisticated office below. There's nothing more unexpected than a neon desk chair and desk pad! White walls and traditional elements are an intriguing contrast to these radiant pieces. [from Campbell Designs LLC via Buttercup Bungalow]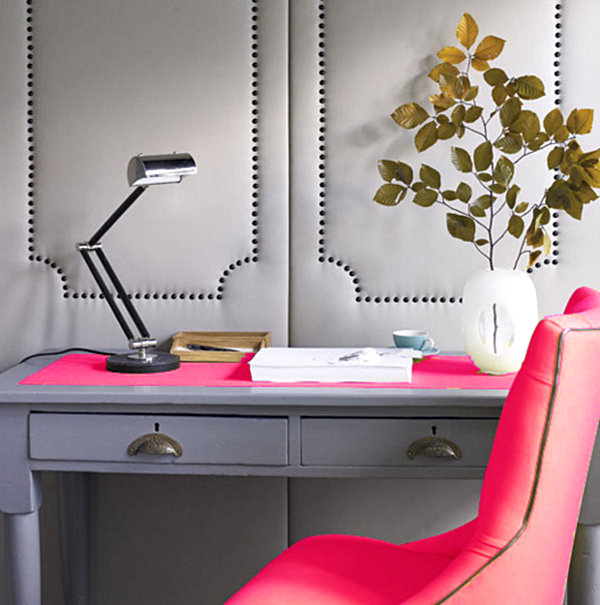 Then there's the allure of a neon green poster bed! A floral comforter and white canopy would typically be more formal choices, but not in this room! Note how the fluorescent focal point is offset by another surprising selection: a purple side table. [from House to Home]
See more: http://www.decoist.com/2012-07-18/fluorescent-decor-neon-interior-design-ideas-to-brighten-your-space/
During the past decade, the popularity of floor paint has become extensively widespread. A lot of people have learned the facts about it such as it increases the durability of the floor if it is properly applied.
Years ago when I decided to paint the floors in my small summer house, most people were shocked (including my parents). Bare wood floors were so chic and such a staple of 90's style, that painting them over and covering them up seemed sacrilegious. I didn't think so anymore. See how they turned out…
The floors were cheap, solid oak floors, in great need of refinishing. It was either hire someone to sand and polyurethane (which would have been messy and cost at least $2,000) or paint them myself with polyurethane based oil paint (cost: $200 for the paint + 3 weekends of my time).
INSPIRATION
The inspiration came from visiting my friend Charles' house in Massachusetts that had been part of a Shaker community. All the floors had been painted and repainted for years in the richest colors. The house was warm and bright without the aid of carpets or rugs, and the idea seemed perfect for any summer house, where all you want to do is walk barefoot for days at a time.
It seemed easy to maintain, and removed all hint of preciousness to the floors. They just seemed practical and lovely, reminding me, as well, of the bright colors …
See more: http://www.apartmenttherapy.com/how-to-paint-floors-210
Picking out a new kitchen style is actually a delightful experience. Regardless if you are hiring a home decorator or not, with regards to changing your kitchen you need to choose your own style. You simply can't allow other people to make that decision due to the fact that person might prefer a specific style that you might be not comfortable with. There are various fantastic styles but they're essentially narrowed down to only 3. I will give you a short description of some of the style of kitchens that you might want to look at.
There are numerous facets to the country kitchen style. You have the American, the English, and the French). But the fact remains that this is one of the favorite and cozy environments for many individuals. This rustic, weathered look creates a warm cozy feeling in a country style home. Usually the kitchen can feature open shelves, pot racks as well as a general feeling of being nicely lived inside, accented through the various palettes of the kitchen cabinetry. Typical colors vary from muted hues to earth tones.
Old World includes French Country, Tuscany, and Mediterranean. Many of these affects are mingled in the Old World style-but with beautiful outcomes. Wood is a vital part of Old World-rich, beautiful wood grains, often with lovely glazes that give it just the right amount of patina, like a cherished antique. When painted cabinetry is utilized it is in rich colors-greens and reds. Combining wood finish and paint is normal. This style favors natural materials. Colors are deep, rich and earthy. Wall colors are the same-reds, gold, browns, burnt orange or rust. Copper or bronze pot hangers are almost a must.
If you don't have any kind of specific taste then the best style for you is a modern style kitchen. This really is most widely used now days due to the fact a lot more people are looking for simplicity with an sophisticated appearance. This kitchen style is hassle proof and requires less maintenance. Out of this style alone there are numerous options to choose from. If you like modern then choose a contemporary style kitchen. Other accessories for the kitchen enjoy curtains or dishes will be very easy to find.
Kitchen design can be quite a complex process, so if you have doubts about the selection of colors, materials or any other kind of questions, the best is to get in touch with professionals who will help you with valuable advices. Whatever type of person you are, there's always a kitchen style which will suit your family.
"If you get the opportunity to get the job done from a home business office, you aspire to make the best of the situation. There are many favorable things involved in working from home. One particular critical factor, however, is basically you have an organized home office. It might be very easy to try and arrange and work at a dining table or in a bedroom, but you'll not be as effective and comfy should you be always moving. There are a few areas to consider that'll make your home office experience thriving."
1.   Determining the requirements: The initial step in this changeover to a home office is to review your requirements. You will want to list the numerous stuff that you will need. Determine the equipment that will be required, like a desk, laptop, printer, as well as other things. You will additionally be considering the requirement for potential meetings in the space. It is possible that you may not have clients to go to your home and you simply will schedule any appointments in a public place. Once you've made a decision what you want to have to do in your home office, you could move on to the next steps.
2.    Plan Your Office: At this point you would like to make a plan for your office. You are going to now know how big your office is as well as what should fit in that space. It is important to start out in an organized manner. You may want to reach out to a business that may deal with your plea, "Help organize my office!" Many of them can provide floor plans and tricks to get the best use of your space.
If you start with established systems in place, it will be easier to take care of the orderliness. Specialists can show you just how to group like items together, how you can file in an effective way, and what activities are best done at a desk or work area.
3.    Find the appropriate Office Area: You will need to figure out where you plan to set up your home office. Keep in mind, it's not necessary an enormous space. If you think about most cubicles in an office setting, they are not that large possibly no bigger than 64 square feet. You'll want to choose a location which will allow you to possess some privacy and permanency. You won't want to have to load up all of your things each day to make room for other activities. Ensure that this area is specific to work alone.
4.   Personalize: A few possibilities for personalizing your office are family portraits, your kids' artwork, mementos and objects with sentimental value, framed quotes or inspirational quotes, small sculptures, an aquarium, photos from nature, a wall mural, a radio or sound system, or a small TV. One of the biggest perks of working from home is having the freedom to individualize your work space, so surround yourself with items that will relax, entertain or keep you going.
The bedroom is a lot more than just the place where you sleep at night. Additionally it is a palace of love, a lair of beauty and intimacy. Decorating your bedroom with a romantic flair takes some time and consideration and definitely has to entice all five of your senses. A truly romantic bedroom must be well thought out and fascinate both sexes.
•    Focus on the Bed
The bed ought to be the center focal point of the space for reasons besides intimate romance. Bear in mind, romantic home decorating is about the lines and detailing, not about the actual feeling. With that being said, focus on your bed frame and bedding. Choose fabrics and bedding that feel luxurious to you and yours. If you are most comfortable and have that warm, fuzzy feeling from flannel sheets, then make use of them! Couple your bedding with a bed frame and other furniture that mirror romantic notions. A four-post bed is a great demonstration of romantic bedroom furniture.
A variety of furniture ranging from rattan or bamboo love seats, beds and chairs allows a sense of relaxation which coaxes any bedroom user to pass time with their nighttime activities. For a few city dwellers, certain furniture may still elicit a sense of romance, especially when it comes to antiques like hand-me-down furniture that tells a history. It may be anything from dresser drawers, armoires, and also mirrors.
•    De-clutter
Remove everything which is not expected in your bedroom. Yes. This includes your personal computer. Your workplace travels somewhere else. Whatever will distract you from relaxing, refreshing and making love need to be out of the picture. Something that spells ugly, messy and stinky ought to go.
•    Romantic Color Palettes
Color is a vital consideration in this project. Precisely, you can find stuff that couples love in common. Concentrate on these things. Maybe one hates black or red, then they can go for a different color, a neutral one, white or beige. Disputes in taste furthermore disturb a romantic environment and ruin closeness.
•    Lighting
If you are going for a romantic feel for your bedroom, avoid harsh bright lights. Rather, go for more of a soft and filtered light for the room. Use a light bulb that has a lower wattage or instead of an overhead light fixture, utilize lamps for the room's light. You might opt for a very basic fitting or even chandelier if you have the proper room in the bedroom. Another great style tip is to try decorative lamp shades that filter the light to another color like light pink or a soft red.
Mood lighting such as onyx lamps, and ambient fixtures, can also contribute to setting up a more subdued, and relaxed atmosphere in this space, without having to leave you totally in the dark.
Romance is centered on creating an emotion. In bedroom decorating, it's about evoking a setting that creates that emotion. You can accomplish this with the use of light and color, applied carefully over the space.
"With the diverse culture here in Asia, it is no longer new to us the differences in how we design our very own home. But one thing is most common in all; it is incorporating nature in it. Whether in our bedrooms, living rooms and bathrooms, one this is for sure we want to feel relaxed and comfortable in it."
When it comes to home design, one culture that has set the bar pretty high in terms of style is Asian culture. In the West bathrooms can look a bit dull, but that's not the case in Asia. The bathroom designs that you will find there are awe inspiring, and look gorgeous. If you want to redesign your bathroom, why not try an Asian approach? Don't believe how good it looks? Here are 15 mind boggling Asian bathroom designs to look at.
This bathroom just gives off a serene feeling that will relax you while you are having a dip in the tub with natural light coming into the room.
For a brighter design you might want to go with a white bathroom, and dark cabinets like this one. The Asian style window also allows for sunlight to enter.
Doors are unique in Asian bathrooms for the sole fact that they're mostly transparent. It gives a nice detail to the bathroom, and makes it feel more open.
See more ideas at http://homedesign7.com/15-mind-boggling-asian-bathroom-designs-will-inspire/1/
"Good thing about designing your own bedroom is having the freedom whatever you desire in it! It is private place in the first place so you can just do anything that suits your style. Below are just some creative inspirations that you may also want to incorporate in your own room. Sometime you just need to think outside the box to come up with great ideas."
Pin it
The headboard and footboard used to be integral parts of any bed, essential to holding the whole setup together. But the way we make beds has changed a bit, and now, if you think about it, the 'headboard' is more of an idea than a piece of furniture. It doesn't necessarily have to be a board or even part of the bed: anything that says, 'hey, this is where the bed ends' will do. So why not get a little creative? Here are 10 unusual things you could use to make an impact at the head of your bed.
Above: Antique windows (with the glass removed!) as a headboard in the home of Kara Rosenlund.
Giant copper platters? Sure, why not? They're unusual, but certainly striking. Spotted on El Ramla Hamra.
I love the idea of an oversized pieces of art in place of a headboard, as seen in this home from Domino.
A big tapestry does the trick, and adds a little softness to a bedroom. From Homelife.
See more ideas at http://www.apartmenttherapy.com/unusual-things-to-use-as-a-headboard-218787
Are you excited to move on your new condominium? Are you already visualizing what it should look like? Decorating a new condo can be little tricky especially if you have a very limited space but as far as the imagination is concerned, "sky is the limit."
Photo credit: Brett Beyer Photography  Source
Photo credit: Robert Peacock  Source
See more at http://www.stylemotivation.com/20-modern-condo-design-ideas/
"Time is gold. That is why we need our watches, clocks or cellphone to monitor our precious time. But nowadays, keeping us on our busy schedule is no longer as simple and plain like what it used to. Today, uniquely designed clocks are incorporated in every home combing functionality and aesthetics in creative way."
A clock is one of the oldest human inventions, and besides telling the exact time it often serves as an important wall-decorating accessory.
Classical design of a clock is already iconic, and you probably rarely see anything different than that. That's why we want to shake things up a bit, and show you these 25 unusual and creative clock designs. [Read more…]
1. Turntable Clock
This clock was created using a recycled Sanyo turntable and a Ronco's Greatest Hits album titled "Get It On" which is replaceable. (Designed by pixelthis)
2. RND Time
The most unusual feature of this clock lies in its entirely random application to the wall, hence the name "rnd_time", where "rnd" is used to indicate the random factor. (Designed by progetti)
3. Pop Quiz Clock
Think back to a time when you were a young geek. Sure, you were brilliant at math, but being asked to solve problems on the chalkboard… That's the stuff of nightmares. Thankfully, that time is over… Or is it? The smell of chalk, and the feel of the blackboard is still fresh in your mind. If you close your eyes, you can almost feel the eyes staring at your back as you labor to engage your brain and simplify the polynomial. (link)
4. Clock Made From A Recycled Bike Wheel
This clock was made from a recycled aluminum Mongoose bike wheel. The wheel mounts directly to the wall through the hub using a hollow wall anchor and gives the illusion that it is floating off the wall. The clock movement is a high torque German quartz movement and is attached to a set of rear cassette gears to conceal the movement. (Designed by pixelthis)
Read more: http://www.boredpanda.com/cool-and-creative-clocks/
Quite often picking out between wallpaper and paint could be extremely hard, for you can find advantages and disadvantages each way. It used to be that wallpaper was unfashionable, so it made the decision easier, but these days wallpaper has returned in fashion and feature walls could be paint OR wallpaper.
Advantages of Paint
Affordable and simple – most people could do a good enough paint job and both material and labor for painting is not costly. Reduced preparation time and extra layers could hide blemishes well. Irregular walls are best concealed by having a solid color in order that the corners or borders tend not to highlight a skew line. Paint is easily painted over, and you may select from a matte or gloss finish.
Disadvantages of Paint
Although painting can be carried out effortlessly, your walls may call for repainting often dependent upon your paint selection. It may also give off or contain chemicals that could harm your household so it is necessary to look into the content of your paint. Additionally, should you prefer a specific design, it might take a little while to create as your painter must do it from scratch.
Advantages of Wallpaper
Numerous contemporary wallpapers will last for 10 to 15 years, while, repainting often has to be done as frequently as every couple of years. This lowers your costs. Wallpaper can also add intricacy and interesting features to a room and wallpaper offers many types of 'looks' like patterns, textures and even created to look like wood or cloth.
Disadvantages of Wallpaper
Once your lavish wallpaper is up on the walls, the main problem you'd probably encounter is keeping dirt off it and eliminating it. Yes, most wallpaper very easily stain and those that are stain proof may cost a lot. Wallpaper could easily fade whenever exposed to sunlight. A lot of wallpaper on the market could also easily fade and lose their colors over time. Dependant on the kind of wallpaper, it can be hard to remove it should you get tired of looking at the design.
Why choose?
Many people think – as to why decide? Use a mix of paint and wallpaper in each room – above and underneath the curtain rails (solid color on top preferably) and even some walls papered and a few walls painted.