Posts Tagged 'design guide'
It's no secret that neon is back–you can spot it from a mile away! Which is why we love it! Decoist recently featured an article about implementing neon colors tastefully, and the growing popularity of fluorescent hues has inspired another post on neon design ideas. Just as neon shades have re-entered the fashion realm by appearing as clothing pieces (like shorts) and accessories (like necklaces), they can put their stamp on our interiors as furniture pieces (like chairs) and accents (like neon floral art)!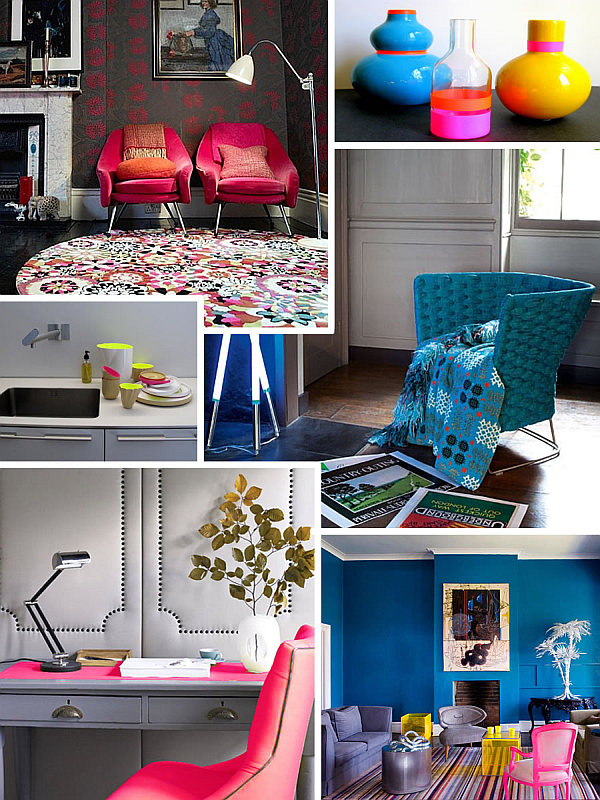 Remember that a little goes a long way. In fact, sometimes neon stands out most when it's one component of a multifaceted room. Also keep in mind that neon isn't just for modern spaces. Below we'll show you how neon can shine in the form of surprising touches that demand attention whatever their size!
Neon Furniture
Design enthusiasts are increasingly using neon furniture to make one or two bold statements that infuse a space with color. Take the sophisticated office below. There's nothing more unexpected than a neon desk chair and desk pad! White walls and traditional elements are an intriguing contrast to these radiant pieces. [from Campbell Designs LLC via Buttercup Bungalow]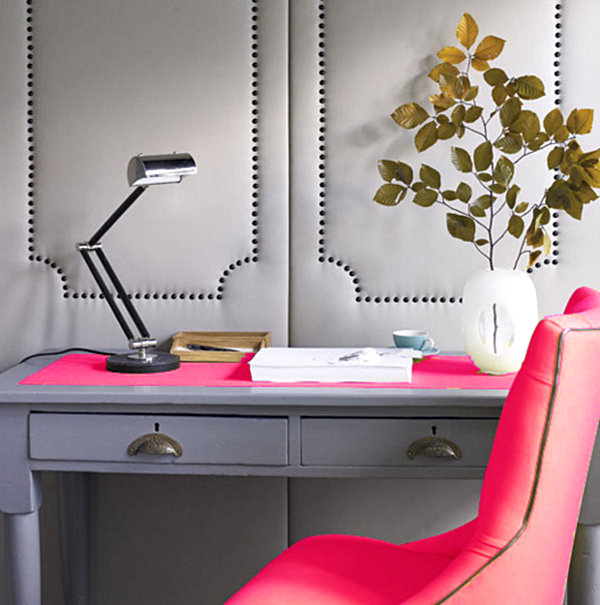 Then there's the allure of a neon green poster bed! A floral comforter and white canopy would typically be more formal choices, but not in this room! Note how the fluorescent focal point is offset by another surprising selection: a purple side table. [from House to Home]
See more: http://www.decoist.com/2012-07-18/fluorescent-decor-neon-interior-design-ideas-to-brighten-your-space/
"Good thing about designing your own bedroom is having the freedom whatever you desire in it! It is private place in the first place so you can just do anything that suits your style. Below are just some creative inspirations that you may also want to incorporate in your own room. Sometime you just need to think outside the box to come up with great ideas."
Pin it
The headboard and footboard used to be integral parts of any bed, essential to holding the whole setup together. But the way we make beds has changed a bit, and now, if you think about it, the 'headboard' is more of an idea than a piece of furniture. It doesn't necessarily have to be a board or even part of the bed: anything that says, 'hey, this is where the bed ends' will do. So why not get a little creative? Here are 10 unusual things you could use to make an impact at the head of your bed.
Above: Antique windows (with the glass removed!) as a headboard in the home of Kara Rosenlund.
Giant copper platters? Sure, why not? They're unusual, but certainly striking. Spotted on El Ramla Hamra.
I love the idea of an oversized pieces of art in place of a headboard, as seen in this home from Domino.
A big tapestry does the trick, and adds a little softness to a bedroom. From Homelife.
See more ideas at http://www.apartmenttherapy.com/unusual-things-to-use-as-a-headboard-218787